ERW Black and Galvanized Pipes

We are Manufacturing and Exporting wide range of Galvanized Steel Tubes & Steel Pipes for various purposes. Apart from the following standard range of products we also manufacture customized products as per the requirement of the buyers.

» Steel Pipes manufactured as per ASTM specification.
» Manufactures galvanized hollow sections.
» Leading manufacturers of manipulated tubes.


Black & Galvanized Steel Tubes Conforming to IS : 1239 (I) Equivalent to BS : 1387 & Structural Tubes Conforming to IS : 1161

View Detail

Note :
1.) IS : 1239 & BS : 1387 covers sizes upto sizes upto 100 mm NB all series, 125 & 150 mm NB medium & heavy series, Plain end & Srewed and Socketed ends.
2.) IS : 1161 covers all sizes Plain End Only.
3.) IS : 1161 O.D. Tolerance will be as per dimension tolerance table, above table min / max. O.D. applicable for IS : 1239 only.
4.) Hydro test Pressure - 5 MPa ( IS : 1161 Hydro Test not Required )


Tolerance on outside Diameter, Wall Thickness, Weight & Length of Pipe
Spec
Outside Diameter
Wall Thickness
Weight
Length (Mtr.)
Pipe Body
Pipe End
Minimum
Maximum
IS : 1239 & BS : 1387
As per table
S.S./Plain
Light -8% + not limited Medium & Heavy -10% + not limited
Carload 10 MT Light ±5%, M & H M 7.5% Single Tube Light -8% +10% Med & Heavy ±10%
3
6.5
IS : 1161
Upto 48.3mm OD, + 0.4mm, -0.8mm Over 48.3MM ±1.0%
N.A.
-10%, + not limited
Carload 10 MT Light ±5%, M & H M 7.5% Single Tube Light -8% +10% Med & Heavy ±10%
3
6.5

Erw Steel Tubes For Idlers For Belt Conveyors IS : 9295-1983 Dimensions & Nominal Masses

View Detail

Tolerances
1.
Outside Diameter : ±0.8%
2.
Quality below 168.3mm : 0.50 mm
3.
Quality including 168.3mm and above : 1.0mm
4.
Thickness : ±10%
5.
Weight Kg/Mtr: Single Tube : ±10%
For Truck Load of Tonnes : ± 7.5%

As Per ASTM A53 - Schedule 40 Grade A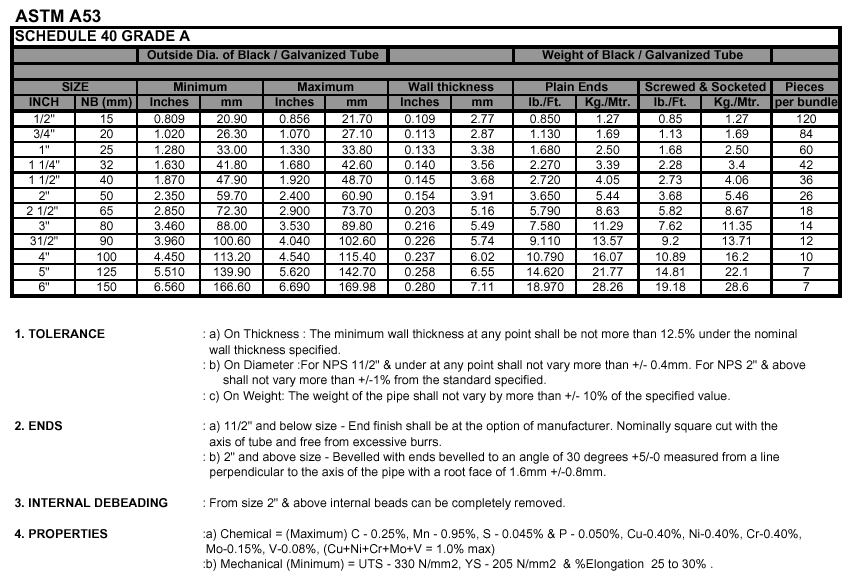 As Per ASTM A 795 - 04 - Schedule 10 Grade A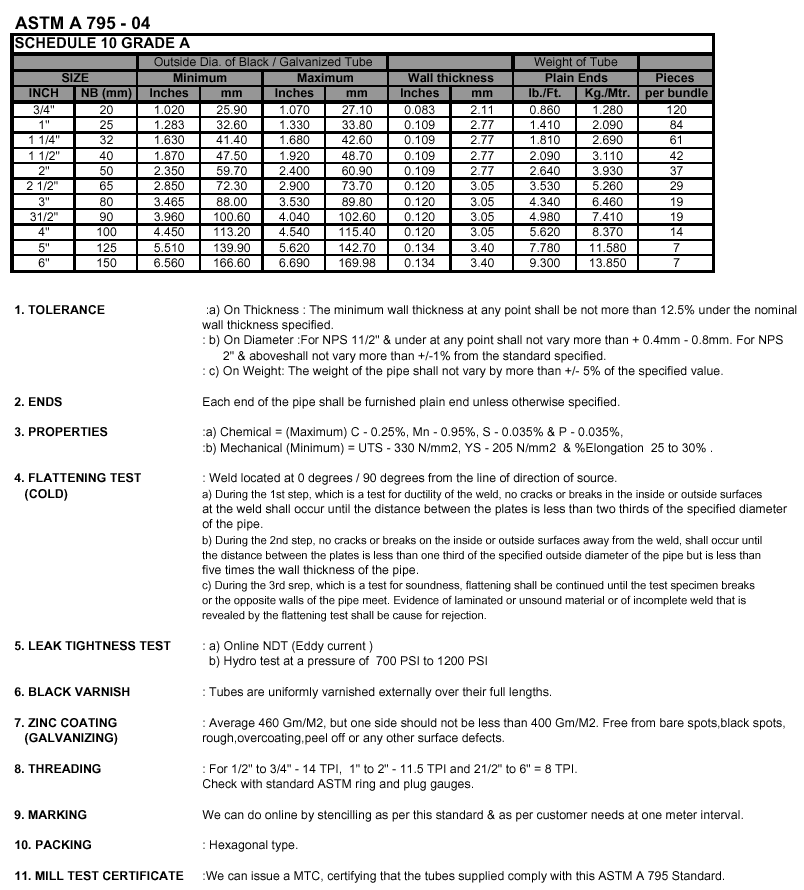 As Per DIN 2440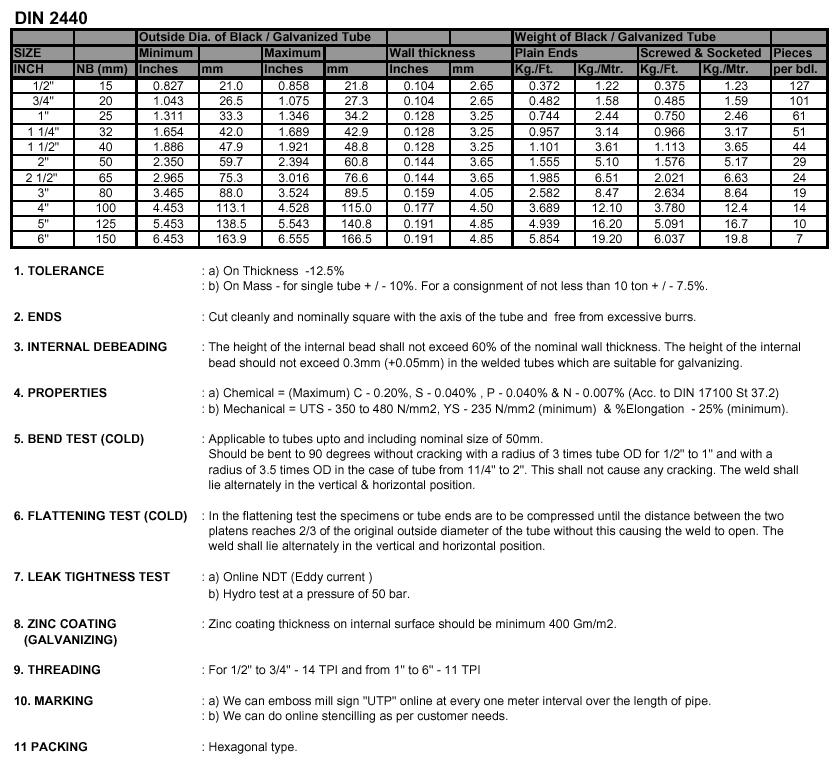 As Per EN 39 2001